JAN 2012
Manchester CHAMP show
Judge Audrey Hubery
VHC Limit
MARCH 2012 
xxxxxxxxxCRUFTS 2012xxxxxxxxx
Judge Dr Sarah Hemstock
 2nd Limit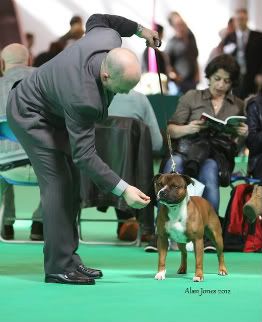 2 Jones' Blazinstaff Light My Fire JW. This red and white boy took my eye the minute he entered the ring - what a stunner. Upstanding, balanced, sound and in excellent fettle. He is full of breed type and very standard. Exceptional head and skull with correct expression. Typical forequarters, straight and strong. Correct body and hindquarters complete the picture. Moved soundly and handled expertly. 
APRIL 2012 
National Terrier CHAMP show
Judge Patryk McGlynn
RES Limit
MAY 2012
Morcombe Bay & Cumbria CHAMP show
Judge Diane Taylor
3rd Limit 
JUNE 2012
Alyn & Deeside CHAMP show
Judge Mr J Farley
RES Limit 
JULY 2012
Windsor CHAMP show
Judge Mr M P Phillips
RES Limit
Notts & Derby CHAMP show
Judge Billy Moffett
HC Limit
AUG 2012
Scottish Kennel Club CHAMP show
Judge Roy Day
3rd Limit
SEPT 2012
Northern Counties CHAMP show
Judge Ann Gaddard
VHC Limit
OCT 2012
South Wales Kennel Ass CHAMP show
Judge Jackie McLauchlad
2nd Limit
DEC 2012
Dover & Deal OPEN show
Judge Mr Parker
1st Open, BEST OF BREED. Terrier group 3.
1st Jones's Blazinstaff Light My Fire JW - Strong, Masculine red and white dog that has a black mask and plenty of substance. He has a broad head with neat ears, pronounced cheek bumps and a darkish eye. His front is straight with plenty of bone and correct layback of shoulder. He has a close coupled cobby body with a level topline which slopes of at the croup to give a low tail set. He has a good bend of stifle giving correct rear foot placement. He moved well today keeping his topline level which won him BOB over a close 2nd from post grad (Blazinstaff Dynamytee at Rougestaff). Nice to see him get 3rd in the group. Well done. 
Woolwich, Bexley & District OPEN show
Judge Karen Thomas
3rd Open