2011
JANUARY
Manchester Champ Show Judge Eric Galvin
1st Post Graduate & RCC
Critique - Blazinstaff Light my Fire JW. A very smart red and white dog who today looked like he was here for business. A well presented dog whose owner has taken the time to get this dog into first class condition and today it paid off. This dog has a quality about him that could take him to the top and emulate or surpass his litter brother. It was a pleasure to award him RCC.

East Midlands Limited show
Judge Gary Wheeler
ow 1st Post Graduate. Reserve Best Dog
Critique - Red with white markings, broad front, deep brisket, powerful shoulders & a level topline, good bone & muscle throughout, moved OK.
FEBRUARY
Potteries Single Breed Limit show Judge Andy Stewart
1st Open.
Critique - Nicely Balanced. Good head. Neat ears. I would prefer a slightly darker eye. Clean straight front. Good feet. Good rib. Level topline. Good strong back end,. In very good condition .

Downlands Champ show Judge Mike Holman
2nd Post Graduate
Critique -R/W, head of depth & width, neat rose ears, dark eyes, clean muzzle, scissor bite, muscular' body, well tucked up at the loins, straight front, correct lay of shoulder, muscular hindquarters, moved with drive & animation.
MARCH
Folkestone, Hythe & District OPEN show Judge Robert Crick
1st Open. Best of Breed. Terrier group 3.
(Stans puppy Hammystaff Hell boy got 1st Junior, Best puppy in breed. Terrier group 2).
Critique - Nicely balanced red / white dog. Neat ears, smashing head, good bite, straight front with no sign of weakness at the pasterns, tidy feet, good bend of stifle, enough bone with good muscle, looks good standing and on the move. with correct tail set completing a super picture .. my BOB & Terrier group 3

XXXXXXXX CRUFTS XXXXXXXX
Judge Mr C A Brindley
2nd Special Yearling
Critique - A Red with white, strong headed dog with a good stop and correct dentition. He has a deep brisket and a well muscled and angulated rear. Well let down in the hocks and a level top line held when walking.

APRIL
Welks CHAMP show Judge Bill Blacker
VHC Limit
MAY
Morcombe Bay & Cumbria CHAMP show Judge Terry Cooper
2nd Limit
Critique - Good head, neat ears, dark eye, straight front, nice body shape, level topline, good bend of stifle, moved and handled very well.
(Stan's puppy got RES in Puppy class)
JUNE
Three Counties CHAMP show Judge Mick Clark
3rd Limit
Windsor CHAMP show Judge Mr M Bradley
1st Limit
Critique - Jones' Blazinstaff Light My Fire JW. Red with white. Lovely dog with clean lines, good head shape and good mouth. Good shoulders and level topline.
Moved well. In very good condition, which won him this class.
JULY
East of England CHMP show Judge Brian Grattige
3rd Limit
Potteries CHAMP show Judge Dave Wedgewood
RES Limit
AUGUST
Bournemouth CHAMP show Judge Mrs J Higgins
VHC Limit
WKA CHAMP show Judge John Bunting
3rd Limit
The North of Scotland CHAMP show Judge John Finney
HC Limit
The Scottish Kennel Club CHAMP show Judge Laureen Williams
3rd Limit
SEPTEMBER
Richmond CHAMP show Judge Norman Benham
RES Limit
Darlington CHAMP show Judge Gary Hinsley
1st Limit & RCC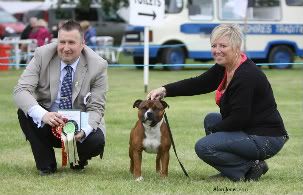 Critique - 1 Jones' Blazinstaff Light My Fire, red with white markings, nice exhibit who fills the eye & fits the Standard well, has strength in well shaped & defined head, good front & well developed rearquarters, has the desired components to make up a sound free moving exhibit, in top physical condition, his animation in challenge was enough to win him the RCC.
NOVEMBER
East Midlands CHAMP Show Judge Mr Bunny Cockayne
RES Limit
S.B.T.C CHAMP Show Judge Karen Jackson
3rd Limit
S.B.T. club of South Wales CHAMP Show Judge Alan George
1st Limit
Critique - (r/w) very nice standard dog, ticking all the boxes, in very nice condition.